Linking up with Jake & Holly :)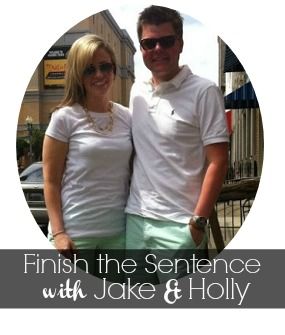 My happy place...
My happy place would be in a bubble bath with a nice mixed drink and candles lit. Now I wish I had a bath tub to be in my happy place. Who buys a house with just a shower and no tub? These two...
Whatever happened to...
Ziva? Tim called me while I was on my way to work and asked what I had watched on the DVR (we still have Criminal Minds & NCIS from last season to finish in the coming weeks). He told me to watch NCIS because Ziva is not coming back! WHAT?! I thought her and Tony really had something :( I hate when shows get rid of characters or they leave. I am still upset about the characters that left Downton Abbey last season!
So what if I....
brush my teeth with the water running. Tim has a big problem with this, but it is a habit I just cannot kick.


E! needs a reality show about...
I want to see Real World come back, doesn't matter what channel :)
My go-to fast food meal is...
I try to go to Panera for a chicken ceasar salad with soup if I am near one and I need a fast meal otherwise it is a turkey sub from Subway loaded with pickles & black olives.
You might not know that I...
have been crocheting like crazy this week. I am working on new projects and learning new skills. I was pretty proud of myself for crocheting my first circle. (I learned to crochet when I was like 10 but never did anything but scarves and a baby blanket that is 5ft long -oops)


The hottest quarterback in the NFL is...
I really have no clue? I choose teams for the work pool by the colors of the teams and which color scheme I like better.
If I could....
Make Mason feel better right now I would. I feel awful when I hear him cough and it sounds like it hurts. I can also hear him breathing from across the room :(
My personality is awesome because...
I love to laugh and smile :) I am always smiling. I also love to help others. I am the type of person that will do anything for a friend no matter how many times I get burned.


Twerking is....
I have no idea! I am not sure I want to know either.
I think it's super gross when...
My co-workers burp! Some of them have some nasty belches and I cringe every time!
Someone needs to tell Miley Cyrus...
That we knew she was a grown up after she shaved her head. We did not need the twerking and all that nastiness a week or so ago. Someone hug that girl! What does her fiance think about all of this?