I am back with Sunday Social. I did not do it last week because we are not big Valentine's Day people so I really did not have good answer for all the questions.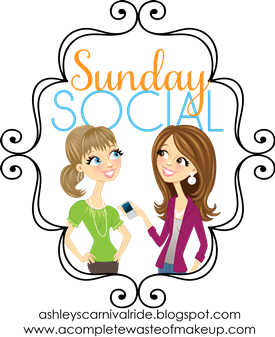 1 Biggest Middle School fashion mistake
Oh dear where do I begin? There are times I wonder what I was thinking. I went through a Carhartt phase and I would wear Carhartt pants and boots. I was a girl! What was I thinking? I wish I had a picture to show well maybe I don't ;)
2. Who were your best friends in High School? Pics?
Lindsey, Amanda, Trisha, Christina, Brittany, Krissy - I miss seeing friends everyday and hanging out on the weekends. Some of us get together for dinner once in a while to catch up but it is tough now.
Junior Year
Homecoming - Sophomore year
Graduation Rehearsal (I am the one all the way to the left)
3. What was a typical weekend like for you in HS?
Some weekends involved staying home and cleaning and other weekends were filled with activities with friends. I liked to go out in those years and go to parties. I usually worked during the day and then at night hung out with friends.
4. Did you have any boyfriends? Tell us about that
I had a few boyfriends, but not many. I did not really date anyone I went to school with. I was usually dating guys that had already graduated. I had three boyfriends total in high school. I met Tim in May of my senior year and we have been together ever since. I did date a guy that was in the army for a year or so. It was a long distance relationship, but it was fun to see each other after the time away.
I am happy I found Tim when I did, I did not have to go through the years of dating to find the perfect guy. It will be 8 years in June since we started dating. It does not seem possible it has been that long.
5. Did you have any secret codes with your friends? Spill your secrets!
I don't think we had any secret codes. I remember a lot of letter writing in class and such. This was the time before everyone had cell phones so we actually had to call each other from home and talk.
I am glad we had to call each other and hope the other person was home. Texting seems impersonal in a way. Though it does seem like it would have been easier to do things if we could be reached anywhere.
6. If you could relive one day/moment/experience from ms or hs, what would it be?
I would love to go back to senior skip day. Instead of doing something as a class - 4 of us girls went shopping an hour away.
Look at my spiky hair! We had fun that day. I hated driving on the highway especially near the capital, who would have thought I would end up doing it five days a week for two years.